Fly with Dalcnet to Light+Building 2022 to discover the latest lighting news
Published : 11/22/2021 09:30:00
"Breaking new ground", this is the motto chosen for the Light+Building 2022, which from 2 to 6 October will bring together the most important companies in the fields of lighting and design in Frankfurt. The event promises to be unmissable and there will be plenty of news from Dalcnet.
The Lighting sector is in turmoil, which is why the Light+Building organisation has introduced a number of innovations.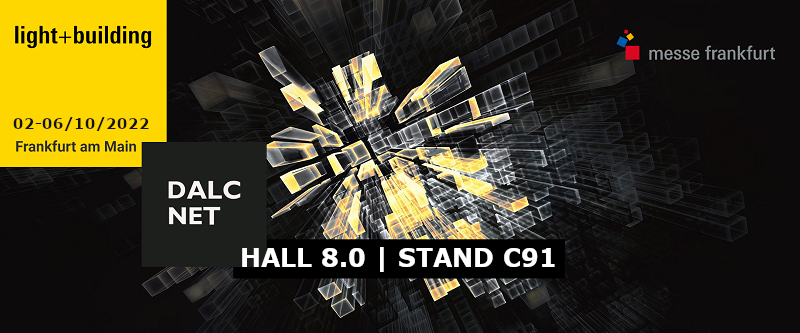 How will Light+Building 2022 be organised?
Light+Building from 2 to 6 October 2022 will bring together the best of the physical and digital worlds. The world's leading trade fair for lighting and building services technology, will be held at the Frankfurt Exhibition Centre and at the same time it will be possible to digitally visit this meeting place. During this time, participants will be able to make new contacts, discover innovative products, make appointments for web conferences, chat with contacts and take part in the complementary Light+Building programme and exhibitor events.
A new international meeting concept dedicated to lighting and building services technology in which exhibitors will present a range of products for integrated building design that is unique. From the design of lighting and lighting equipment, to connected security and building automation, electrical installation systems, intelligent energy management and electronic charging infrastructure providers.
Thanks to the "Light + Building Digital Extension" digital platform, it will also be possible to extend the physical event, thus improving scope and flexibility for both exhibiting companies and visitors.

What will be the main themes of Light+Building 2022?
The main themes of the event will follow three main guidelines:
Green Deal & Sustainability
Electrification & Digitalization
Light & Design
The main theme "Green Deal & Sustainability" focuses on systems that help to sustainably increase the energy efficiency of buildings and cities. Optimal utilisation of built-up areas, extensive data collection and evaluation and closed resource cycles will be the cornerstones for achieving significant results in this area, together with the use of environmentally friendly and recycled building materials, the use of renewable energy and automated building services technology.
"Electrification and digitalisation" focuses on efficient planning, optimal energy use and comfort in buildings. Optimisation of energy use and building safety increase and predictive maintenance improves resource use.
The third main theme "Light & Design" focuses on light. Both the quality and design of lighting play an important role in the planning of rooms and buildings. The theme of sustainability is evident in the use of natural materials and colours, as well as in the recycling of resources. In addition, light as part of the architecture of the building has an influence on well-being, performance and safety.
FIND OUT HOW TO RECEIVE INVITATIONS
East Grounds: lighting design and technology
East Ground of Light+Building will be entirely dedicated to light; an area entirely dedicated to exhibitors who will present the latest lighting trends in terms of design and technological innovation. An excellent opportunity to understand how the evolution of lighting is shaping our present and our future.
Intersec Building: home automation and smart building
Intersec Building will represent all the technologies and solutions dedicated to the smart home and smart building; integration between connected security systems and automation will therefore be the pivotal point on which Light+Building intends to focus its attention, bringing together the range of products and services dedicated to this topic with Intersec Building in Hall 8.0. Within this area, Dalcnet (stand C91 in hall 8) will also be present with some innovative solutions related to intelligent lighting control.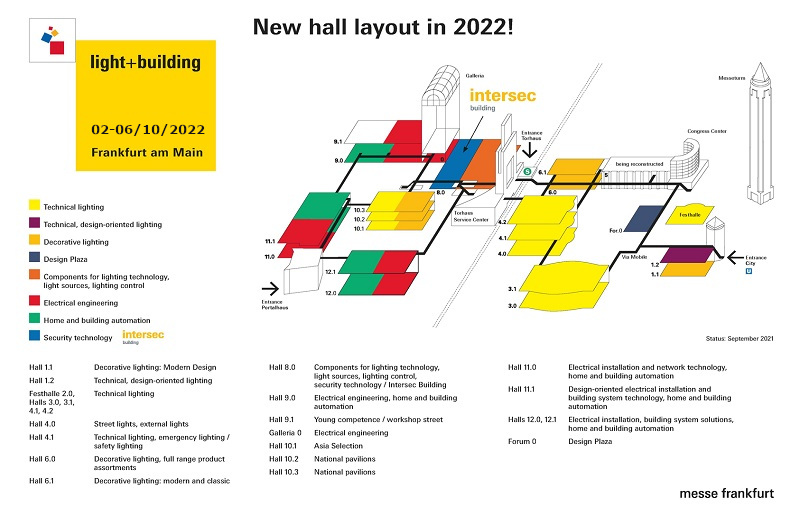 West Ground: integrated building technology
The concepts of connectivity and artificial intelligence are changing the technology of building services. The most important innovations in the field of integrated technologies for intelligent buildings will be presented in Halls 9, 11 and 12. Not only domotics and building automation but also solutions for building systems, electrical installations and network technologies.
GET IN TOUCH AND REQUEST INVITATIONS
Share this content