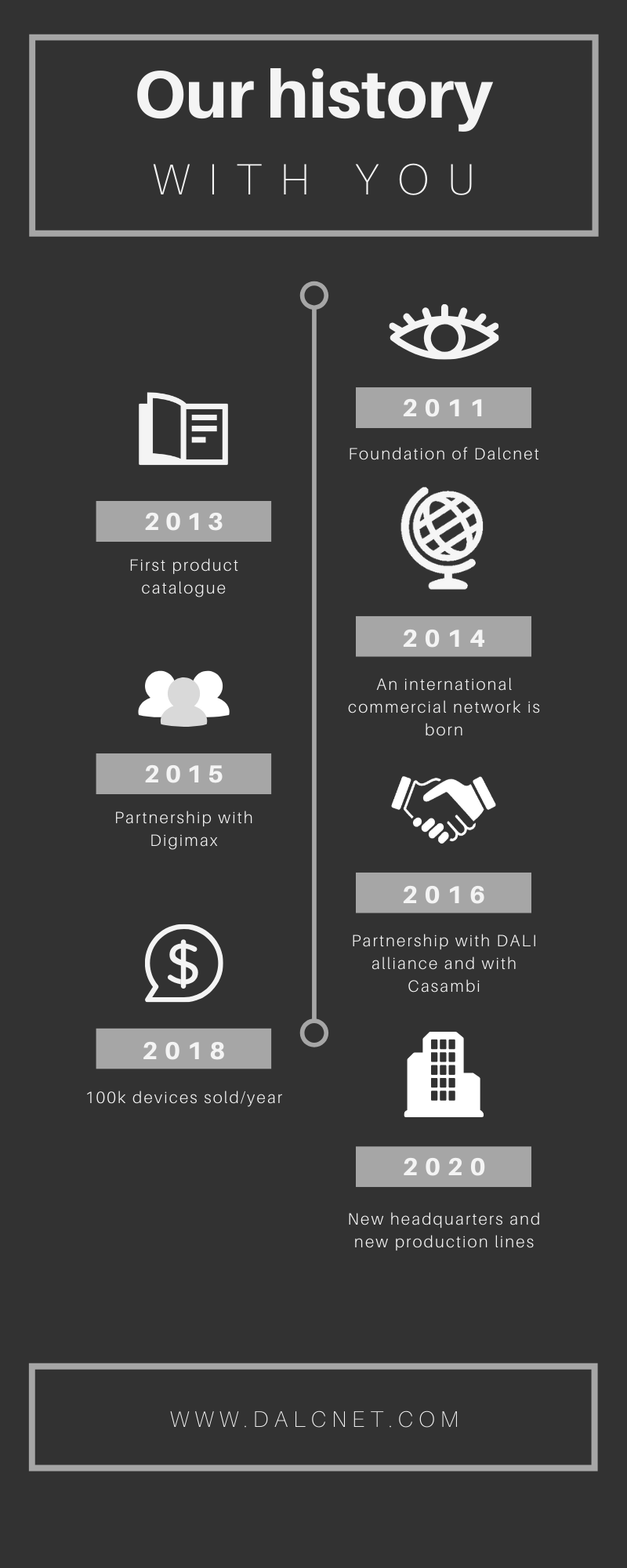 Dalcnet: Italian LED lighting experts since 2011
Dalcnet is an Italian company specialized in LED lighting. A young, dynamic and fast-growing team with 10 years' experience in research, development and design of innovative solutions for LED lighting control.
Since 2011 we have been designing, developing and producing LED dimmers, LED drivers, LED controllers, gateways and converters in cooperation with leading international manufacturers. Thanks to our experience, we realise LED lighting solutions for light design, lighting engineering, home and building automation.
Thanks to our technical expertise and our Italian and international distribution network, we offer a pre- and post-sales assistance and consultancy service to best fulfil the role of partner in large and complex projects.
Dalcnet products for LED lighting systems
The range of Italian-made LED dimmers and LED lighting control units from Dalcnet was created to meet needs of the professional LED lighting market, with compatibility with the most popular light control protocols such as DALI, Casambi, Modbus, DMX512, DMX/RDM, as well as the classic push-button, 0-10V, 1-10V.
Not only a wide range of products, but we are also able to develop:
LED lighting for indoors and outdoors;
Decorative lighting and LED design;
LED and architectural street lighting;
LED industrial and commercial lighting.
With a special focus on the latest trends for the future LED lighting sector: smart lighting and IoT, sustainable lighting, home automation and home automation.
Dalcnet OEM and ODM solutions for LED Lighting
Dalcnet is distinguished by its ability to create customised LED lighting systems for OEMs and ODMs, with the aim of providing complete control of the most innovative and technologically advanced LED lighting systems. We are able to assist the customer at all stages from prototyping to production, maintaining constant firmware updates in accordance with the latest specifics.
We work in close cooperation with architects and interior designers, electrical and lighting designers, system integrators specialized in hotel, ship and building automation systems, electrical distributors and LED lamp manufacturers.
Are you a Lighting Specialist?
Contact us and implement your LED lighting project with Dalcnet!