Casambi is an advanced professional system designed for wireless lighting management: based on Bluetooth technology's low energy consumption, the Casambi system can be managed directly from a smartphone or tablet, thanks to the application compatible with Android and iOS operating systems.

Casambi technology can be integrated into lighting devices, LED drivers or light sources, thus representing an easy to install and extremely functional solution.
DISCOVER CASAMBI PRODUCTS DESIGNED BY DALCNET
Casambi and the mesh network for lighting control
Casambi technology is based on the mesh network in which all the intelligence of the system is replicated in each node, thus able to bypass any points of error. Thanks to the mesh network it is possible to perform firmware updates without any type of invasive intervention and minimizing the use of wiring. All Casambi devices are smart and able to work even without an Internet connection; the latter is in fact only necessary during the configuration phase. 127 units can be associated with a single network.
How the Casambi standard works
The Casambi app is freely downloadable from any smart device. The technology used works with a wide range of products such as wall switches, drivers, bulbs or LED modules, in a simple and intuitive way.
The Hemisfèric, designed by Santiago Calatrava and Félix Candela, is one of the best known architectural buildings in the City of Arts and Sciences of Valencia and contains a planetarium, a cinema, a cafeteria and a restaurant. The lighting of the external structure was designed to enhance the characteristics of the building and the water surrounding it, to achieve unique light and colour effects.
Thanks to the control lighting units DLX 1224-4CC500-CASAMBI designed by DALCNET it was possiblemanage lighting scenarios using Casambi technology: lighting scenes have been programmed with different colour options and can be recalled automatically depending on the time of day and day. In conjunction with special events, it is also possible to modify lighting parameters in a quickly and easily through the Casambi App.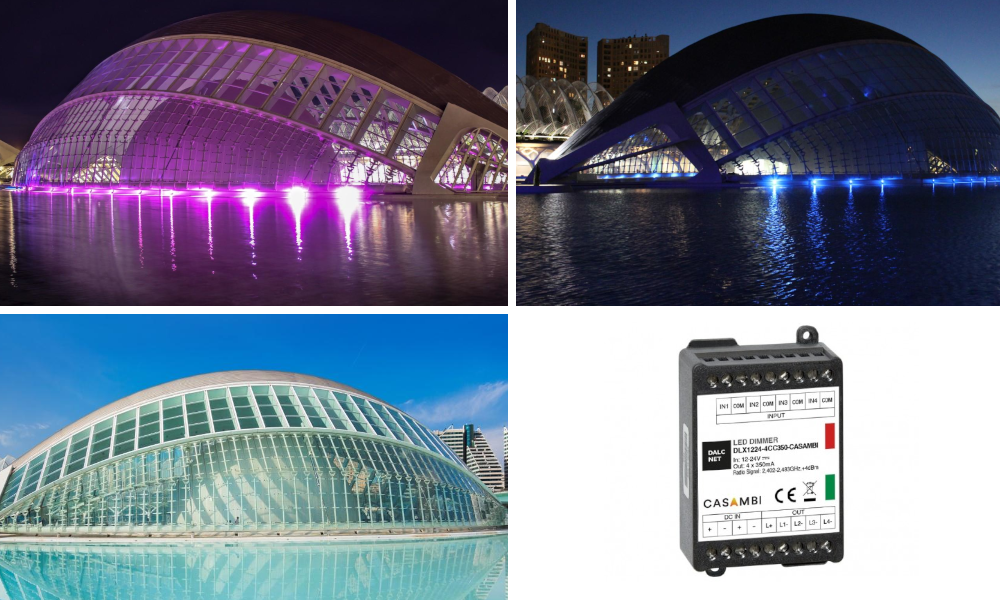 Ideal uses and applications for the Casambi standard
Casambi technology is extremely versatile; it is, in fact, suitable for controlling the lighting intelligently with significant benefits in terms of comfort and energy savings. Perfect for work environments, thanks to the possibility of setting and activating personalized lighting scenarios, the Casambi application allows you to switch the light on and off, set the ideal intensity for workstations and common areas, creating the atmosphere of greater personal well-being. In the retail sector, it is also possible to modify the layouts of the stores easily and independently.